Backup is an important thing, and if most of your works are online, then you should keep a backup of your works in computers or external hard drives. It is necessary to take backup because there may be unexpected data loss due to virus attacks, ransomware attacks or hackings. In this blog, we will know the best methods to backup Hotmail emails to the hard drive, follow until the end.
Today hackers can easily crack any webmail account and steal important emails and other data. There may be various other reasons to take the backup of webmail accounts such as you want your emails into a PDF file format or you want to take a backup from web-based emails to desktop email clients, etc.
Hotmail (now known as Outlook.com) only allows the users to migrate the emails from one folder to another but restricted to download in PC. Now see some tricks and techniques to download Hotmail to personal storage.
Also read-Manual Steps for Configuring Office 365 in Outlook 2016
Methods to Save Hotmail Emails to Hard Drive
There is no direct method provided by Microsoft but here are some tricks to backup the Hotmail emails on PC.
Method 1: By the View message source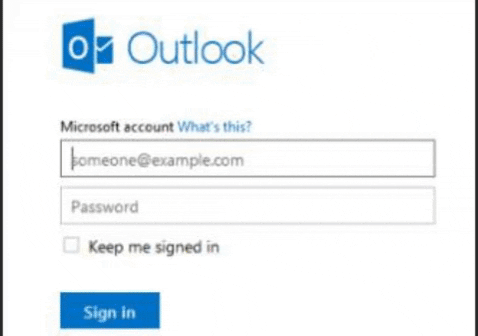 Source: https://gph.is/g/EqRBJBp
Step 1: Login to your Hotmail account and open any email that you want to backup.
Step 2: Now, under the message's header area, look for the down arrow next to Reply and from there choose the option of the View message source. Or just simply click on that opened email and choose View message source option from the drop-down menu.
Step 3: Now copy the entire text from there and paste to notepad or into any other application.
Method 2: Check if your browser allows you to save the email source code in EML format
Source: https://bit.ly/2MWfFjF
Step 1: In the email message source tab look for the File and click on the Save As.
Step 2: Rename the file followed by  .eml. Click Continue to save the email to the specified storage location.
Note: Above methods are either just a copy-paste method or save as method and you can use for single email at one time to save the emails offline.
An Automated Method to Backup Hotmail Emails to the Hard Drive
To create a copy of all your Hotmail emails at once use a professional utility which is Hotmail Backup Software by Cigatisolutions. This software retrieves all your Hotmail emails including Calendar, Contacts, Excel, PPT, etc. to the hard drive at once in just no time and allows the users to download it in different file formats like PST, EML, EMLX, MBOX, MSG, HTML, MHT, PDF and TXT. It also exports emails to different email clients like Gmail, IMAP, Yahoo, Outlook, Zimbra, Thunderbird, etc. This utility supports all the versions of the Windows operating system with great graphical user interface.
Conclusion
No one wants to face the data loss and everyone wants their important data backed up that's why I have discussed the best methods to backup Hotmail emails to the hard drive. There are some separate solutions to save Hotmail emails to personal storage. Apply the carefully and I am sure you will be able to save your Hotmail data.